Lyon Carex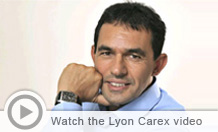 THE NEXT HIGH-SPEED EUROPEAN RAIL FREIGHT SERVICE CONNECTED TO LYON-SAINT EXUPERY AIRPORT
The Lyon Carex association, created in September 2008, is a member of the Euro Carex programme for contributing to the development of freight transport by high-speed train between airport platforms in Europe via the existing high-speed line network.
The new chairman, Bernard Sinou, elected in March 2015, really believes in this innovative project, which benefits to the environment and to the economic development of the territory, and will work in continuation to Salvatore Alaimo, founding chairman of Lyon Carex and CEO of Dimotrans Group, who was strongly invested in the launch of the Carex (Cargo Rail Express) project on the airport platform in Lyon.
This future rail freight service must be considered as a new niche that is going to revolutionise multi-modal transport and have a positive impact on the economy, the environment and employment.
For Lyon-Saint-Exupéry airport and its territory, Carex is an economic development and attractiveness asset for the establishment of new companies.
At Lyon-Saint-Exupéry, as in the other railports (Carex air-rail terminals), private and public operators work together and are mobilised to complete the project.